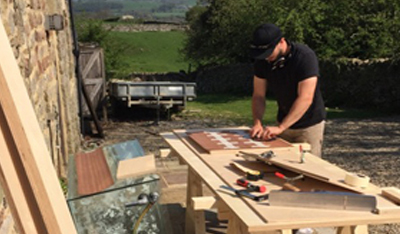 Posted on
Leo is the newest member of the Sam Anderson Team having come on board 3 months ago. Leo began his career in furniture making with an apprenticeship at the age of 15 with Dingwall and Banks, a furniture restoration specialist based near Leyburn.
Whilst working for Dingwall and Banks Leo learnt the art of furniture restoration under the instruction of his father, Simon Banks, one of the countries master furniture makers.
Leo's passion for furniture making is driven by seeing the evolution of a piece of furniture from a 2D drawing to a 3D object. It was the opportunity to create and build, not restore furniture that led Leo to joining SAFF.
We are delighted to have Leo as a member of our team, the combination of Leo's impeccable construction background and abilities combined with Sam's amazing design, veneering and inlay abilities has created the perfect match and has already led to some spectacular furniture pieces.
With Joss heading up the Spectrum range and Sam and Leo collaborating on bespoke pieces, the future of SAFF looks to be in very capable hands!